Bathroom furniture
The bathroom furniture is a central element in the design of the room. In addition to the practical aspect, the bathroom furniture is a key component of the decoration. Depending on the size of your room, configure the furniture to suit your needs. If you have a small room, select a shallow undermount cabinet that can fit in a small space. On the other hand, select a wide undermounted cabinet to benefit from a good storage capacity if you have a large room. You can complete your set with a storage column and a matching mirror. Discover our undermount furniture, mirror cabinets, mirrors and vanity tops through different collections.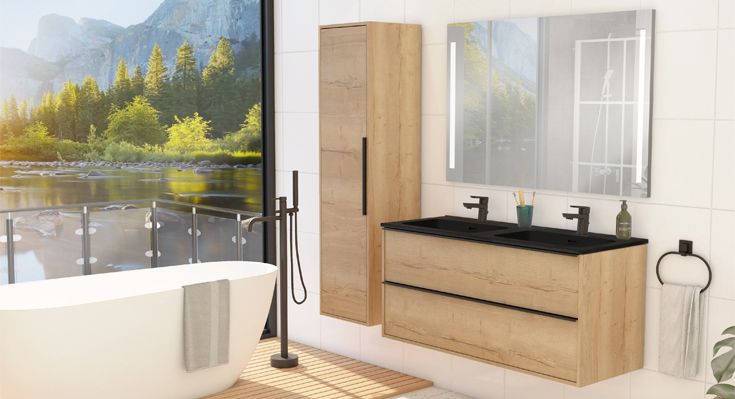 Welcome to the Allibert world!
What if we could turn the everyday bathroom into a series of exceptional moments? To accommodate these unique moments, we wanted to create spaces that are equally warm, aesthetically pleasing and soothing, of the highest quality and yet accessible to everyone.
As a bathroom designer, Allibert offers quality, functional and aesthetic solutions at an affordable price. They will guide you through the complete design of your bathroom. Allibert offers a wide choice of finishes (melamine, laminate, lacquer, polymer) and colors. Plain gloss, matte, ultra-matte or decorative... the choice is yours! Create a bathroom space that looks like you, according to your needs: column, mid-height, and walk-in closets are available in our ranges to allow you to optimize the layout of your room. Finally, our range of countertops (ceramic, polycarbonate, melamine) and mirrors will meet all your expectations in terms of style and use.
The majority of our furniture production is carried out in France, in our factory located in Châtellerault (86) certified ISO 9001. We have a laboratory that allows us to carry out tests on each of our products in accordance with NF standards (tests on components, resistance and aging tests). Also, all our staff is responsible for controlling the production at each each step.
As a responsible manufacturer, environmental issues are at the heart of our concerns: to this end, we use raw materials from sustainably managed forests (PEFC or FSC®) and are certified to guarantee the origin of the wood and its traceability until it is marketed.